The holiday season is already emotional at times missing loved ones who have passed, those we cannot see or hug right now due to the pandemic and just the cherished memories that bring the tears that seem like they will not end.
Today, as I was working and minding my own business, I remembered that I had to make a run up to another office to pick up paperwork. As I walk in, the administrative assistant was wearing this pretty, red and cozy sweater. I loved it and told her so. It made me stop and look at it closely and see the weaving of the yarn and admire the red color. I love sweaters and this was one that caught my attention.
As I was getting my paperwork, I overheard her tell the other assistant that it was her mother's sweater. It was about two months ago that her mother passed away quickly from Cancer and she was the only child to deal with the grief and what memories remain today and through all of the tomorrows. I was so thrilled to hear that it was her mom's sweater and the thought came, she is wrapped in her mom's love as she wears it now.
My paperwork is now in my hands and I quietly and quickly leave the office as they remain talking. Normally, I would stop and talk and all that as women do, as I enjoy and have a wonderful work family. I could not talk. I could not leave quick enough and hoping that they would not stop my feet from moving out the door. The tears were falling quicker than I could control as I entered the elevator hoping I would not run into anybody.
How interesting that such a thing can cause such a flow of emotions. A pretty red, cozy sweater was all it took. Again, the holidays don't help and knowing next month will be twenty-five years since my own mother passed away of Cancer, also quickly. It all comes back seeing the same sweater that is not one you see often and knowing I buried my mom in her pretty red, cozy sweater (somewhat similar to that shown). The weaving of the yarn, the gentle black yarn mixed in just enough to add to the unique detail and knowing just how soft, it indeed brought back memories of yesterday.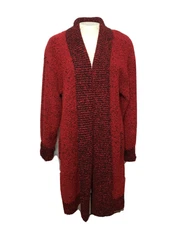 "When someone you love becomes a memory, the memory becomes a treasure."
Author unknown
To observe attentively is to remember distinctly. Edgar Allan Poe
Recalling the past can awaken an emotional response. Remembering an event, a situation, or a person can evoke a shiver of excitement, the heat of anger, or the anguish of grief. … Most emotional memories are the result of cued recall. A certain date may trigger an emotional memory such as in the anniversary of a loss.
https://www.mygriefassist.com.au/inspiration-resources/quotes/
https://www.verywellhealth.com/getting-through-the-holidays-1132547